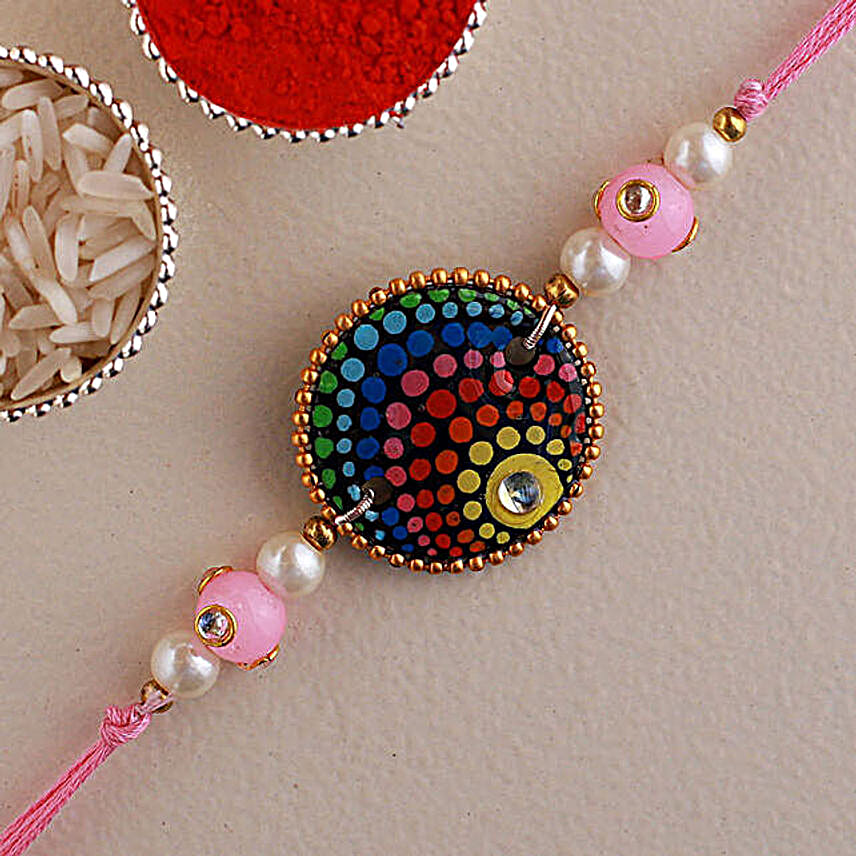 For those thinking what's the buzz all about, it's that time of the year when the bond between brothers and sisters becomes stronger with the sacred thread of Rakhi. Yes, we are talking about none other than Raksha Bandhan. As the festival draws near, you might be considering shopping for a rakhi. But why settle for the ordinary when you can delight your favourite sibling with a remarkable creation? To simplify your choice, FNP has curated an exquisite selection of designer rakhis, featuring even sustainable pieces and cartoon illustration designs. So, dive into the world of rakhi wonder with FNP's spellbinding offerings –
Say 'I Love You 3000' with Marvel Rakhi
Marvel fans – Assemble! Why settle for the old simple thread to tie on your brother's wrist when you can gift him something truly unique with FNP's Marvel-inspired rakhis? This rakhi season, delve into the world of superheroes with awesome Marvel rakhis. FNP's collection showcases an assortment of designs inspired by iconic characters like Spider-Man, Iron Man, Hulk, Captain America and more. The site also has Marvel rakhis with characters in their adorable chibi form. So, let your brother flaunt his favourite superhero emblem on his wrist and feel the power of the Marvel Cinematic Universe in every thread.
Spread Sparkles & Smiles with American Diamond Rakhi
We have a dazzling collection of exquisite rakhis designed to add sparkle to your celebrations. These stunning rakhis feature intricate craftsmanship, with American diamond embellishments evoking a sense of elegance and luxury. Choose from a variety of designs that perfectly blend tradition with contemporary style to make your Raksha Bandhan shine bright. Plus, with a wide range of designs, you are sure to find the right one!
Double the Joy with Toy Rakhi
Bring back the shared memories of your childhood with toy rakhis. Their collection of adorable rakhis are more than just threads as they come with a little surprise. From football star-shaped to cute teddy bears and from a lego truck rakhi to a push-button rakhi, these rakhis add a playful and quirky touch to the celebration. Each toy rakhi will not only adorn your brother's wrist but also become a cherished keepsake. Order and watch his face light up with joy!
Nurture Love with Plantable Rakhi 
Embrace eco-friendly celebrations with plantable rakhis. These rakhis are crafted with biodegradable materials embedded with seeds, allowing your sibling to plant them after the festival. Their plantable rakhi collection features various plant seeds such as jasmine, rose and marigold. Order one (or many) and witness your love grow along with a beautiful plant, symbolising the ever-growing bond.
Pet Rakhi for Your Pawsome Friends
Who said the festival of Raksha Bandhan is limited just to humans? FNP introduces the aww-dorable pet rakhi collection, specially designed for your beloved furry friends. Now, you can celebrate Raksha Bandhan with your pets, tying a cute Rakhi around their paws/neck and showering them with love and treats. Take your pick from the likes of the goodest boy pet band, best bro fur-ever, pawprints of love rakhi and so many more to make your four-legged companions feel extra special on this occasion.
Shower Love & Blessings with Devotional Rakhi
For the spiritually inclined, FNP presents the devotional rakhi collection. These intricately designed rakhis showcase divine symbols like Om, Swastika, Rudraksha, Shri Krishna and Ganesha, bestowing blessings and protection on your sibling. You can also shop for combos that come packed with chocolates, dry fruits, plants and sweets. These rakhis will act as a beautiful expression of faith and love, making it an ideal choice for a heartfelt celebration.
Add Personal Touch with Personalised Rakhi
Make your rakhi even more special with FNP's love-embedded personalised rakhi collection. Add your brother's name, initials, short message or a heartfelt picture to the rakhi, turning it into a unique and cherished memento. The personalised rakhi collection allows you to customise the rakhi to reflect your brother's personality and style, making it a treasured keepsake that he will cherish for years to come.
So, this Raksha Bandhan, explore the collection and send your love wrapped in the enchantment of rakhi to your sibling, making this festival a truly unforgettable experience.