Bollywood actress Kangana Ranaut will next be seen in an upcoming film Emergency. Now, the gorgeous Queen actress has made a shocking claim, saying that she was removed from over 25 brand endorsements and incurred Rs 30-40 crores loss every year for being vocal about political issues.
Kangana took to her official Instagram handle and shared an interview of Twitter head Elon Musk, which had the headline "Elon Musk: I'll say what I want, and if the consequence of that is losing money, so be it." The actress captioned it: "This is a character, true freedom and success, speaking for Hinduism, against politicians/anti-nationals/tukde gang costed me 20-25 brand endorsements, they dropped me overnight and that amounted to a loss of Rs 30-40 crore per year…"
Further, she added, "But I am free and nothing should stop me from saying what I want definitely not agenda-driven multinational companies and their corporate brand heads who hate India it's culture and integrity… I appreciate Elon because everyone displays only weaknesses, at least rich person should not care for money…I see those more rich they get deprived they become…"
Have a look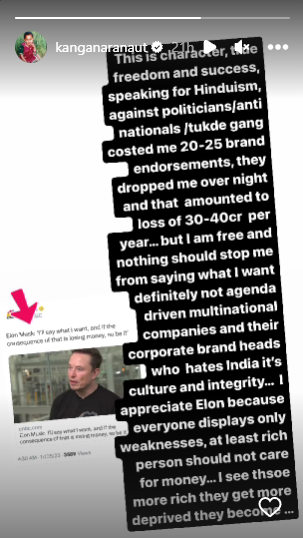 Meanwhile, on the professional front, the actress has wrapped up the shoot for her upcoming directorial venture Emergency. Apart from this, she has Tejas, in which she portrays the role of an air force officer.