Here's a list of mouth-watering dishes to gorge on this Basant Panchami!
New Delhi [India], February 10 (ANI): As the occasion of Basant Panchami, which marks the onset of the spring season, is just around the corner, people are gearing up to seek blessings from Goddess Saraswati, who is considered as the deity of wisdom, intellect, and learning.
Associated with yellow colour, the festival of Basant Panchami also marks the start of preparation for Holika and Holi, which occurs nearly 40 days later. But every festival is incomplete without some delicious dishes to gorge on, and if you are planning to prepare something lip-smacking this Basant Panchami then we have got you all covered!
Ex Radisson Chef Anil Dahiya had suggested a list of delicacies that one can savour on the auspicious occasion of Basant Panchami:
1. Sweet saffron rice


Ingredients:
1. One cup long-grained basmati rice
2. Six tbsp ghee
3. Two tbsps almonds chopped
4. Two tbsps pistachios chopped
5. Two tbsps cashew nuts chopped
6. Two tbsps cranberries chopped
7. Two tbsps raisins
8. Two cardamoms green
9. One bay leaf
10. Two cinnamon sticks
11. Six cloves
12. Half cup sugar syrup (chashni)
13. Two tbsps milk
14. Two cups water
15. One pinch saffron sachet powder
16. Rose petals for garnishing
Method:
Wash the rice and soak it in water for 30 minutes. Heat ghee in a pan, and then add the chopped nuts and dried fruit. Saute on medium flame until cashews are golden brown and raisins are puffed up. In the remaining ghee, add the cardamom, bay leaf, cinnamon, and cloves. Stir for one minute or so until the cinnamon unfurls and cloves are puffed up. In another bowl, wash rice and drain them and add to the pan. Toast the rice with the spices on a medium flame for two to three minutes. Then add two cups of water. Bring this to a boil. Once the water is boiling, reduce the flame, cover with a lid and allow to cook for eight minutes. Then, mix the saffron powder in the milk, pour sugar syrup, and saffron on rice. Gently toss the rice in the saffron milk until it gets a uniformly golden hue. Remove the pan from the flame. Mix half the fruit-nut mix into the rice. Remove this onto a platter. Garnish with the leftover fruit-nut mix rose petals.
2. Bengali cauliflower and potato curry


Ingredients:
1. Cauliflower – 250 gms
2. One large potato
3. One piece of cinnamon
4. Three cloves
5. One bay leaf
6. One tsp cumin seeds
7. Half tsp chilli powder
8. Two large pinches of turmeric
9. Three tbsp of mustard oil
10. Salt to taste
Method:
Peel and cut the potato into 1/2" cubes. Clean and break the cauliflower into small florets. In a wok or kadai, heat the mustard oil. Add the cumin seeds and wait till they start to change colour. Add the bay leaf, cloves, and cinnamon. Stir fry for 10 seconds. Add potato and stir fry for five minutes. Add cauliflower and stir fry for five minutes. Add one cup of water. Cook covered till the potato and cauliflower are parboiled.
3. Turmeric Ber fruit smoothie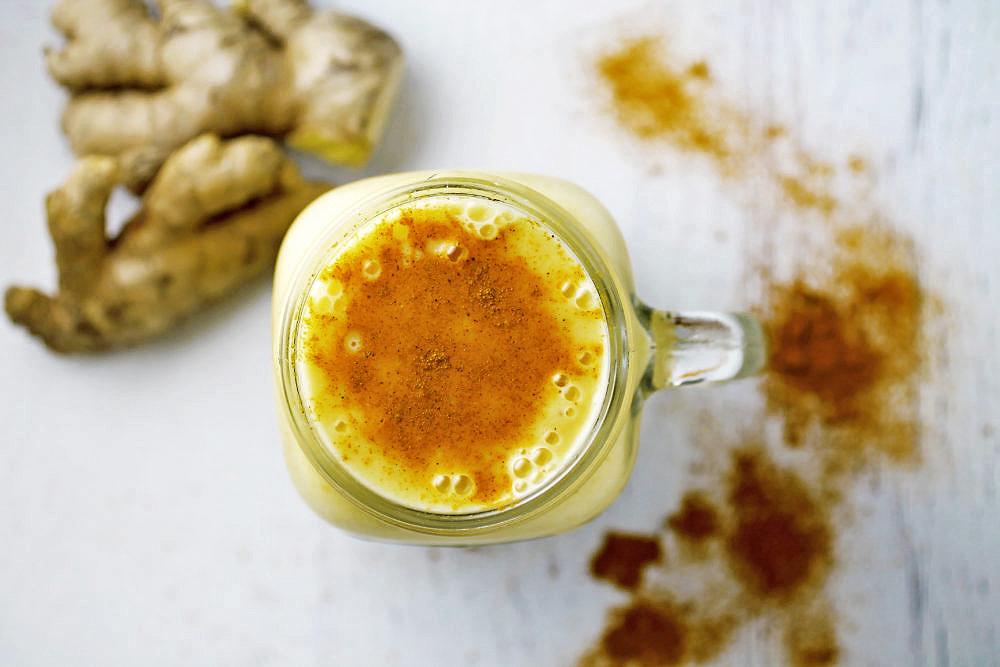 Ingredients:
1. One cup of almond or any other milk curd
2. Half tsp of turmeric juice
3. 10 sweet Ber fruit seedless
4. One tsp of honey
5. Five soaked almonds
6. Half tsp of cardamom powder
Method:
Add all the ingredients to a blender. Blend until all the ingredients are mixed properly. Warm the milk (optional) and it's ready to serve!
4. Makkai Kesari Halwa (Polenta Halwa)


Ingredients:
1. One-third of makkai fine dalia or polenta
2. One-third cup of sugar
3. One-third cup of ghee
4. One-fourth tsp of Cardamom powder
5. Two or three cups of hot water
6. Roasted dry nuts
7. Two tbsp of khoya
8. Four to six drops of yellow or orange food colour
Method:
In a pan, heat the ghee. Add the polenta and saute for about five minutes. When the polenta gives off a gentle aroma, add the sugar ad cardamom powder. Now add the water and food colour and mix well. Over medium flame, cook till the water is absorbed and the polenta Kesari is slightly translucent. Turn off the heat and let the Kesari cool to room temperature. Using a spoon or a fork, mix the Polenta Kesari well so that it becomes a bit crumbly. Garnish with roasted nuts and grated khoya. Served with poori.
5. Masala jhaal muri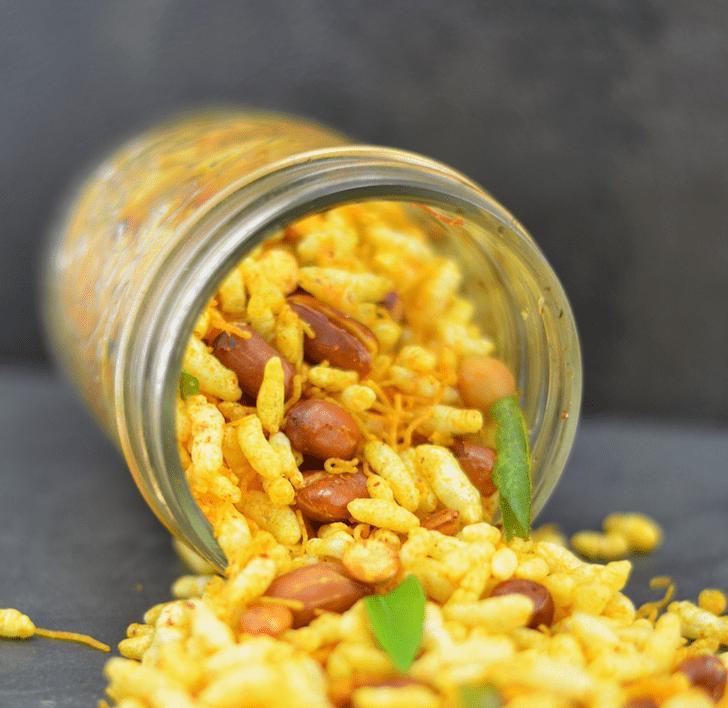 Ingredients:
1. Two tbsp of mustard Oil
2. One cup of peanuts (raw)
3. Half cup roasted gram dal /Dalia
4. 10-15 curry leaves
5. Two tsp Asafetida or hing
6. Two tsp of turmeric
7. Salt to taste
8. Two tbsp boiled potatoes
9. Eight cups of puffed rice or brown puffed rice
10. Two tsp of red chili powder
11. One cup of sev fried chickpea noodles (optional)
Method:
Heat oil in a pot, add peanuts and stir well. Add roasted gram dal and curry leaves, asafoetida, turmeric, salt and mix well. Add in puffed rice and stir well. Add in the red chili and mix well to combine. Add sev and potatoes, again mix it well. Serve with tea and enjoy.
Apart from these lip-smacking dishes, one could also treat their taste buds with sweets such as Rajbhog, and Sondesh. These sweets are first offered to Goddess Saraswati and then distributed among the devotees celebrating the occasion.
Here's wishing all our readers a very happy Basant Panchami 2021! (ANI)
The Daily Guardian is now on Telegram. Click here to join our channel (@thedailyguardian) and stay updated with the latest headlines.
For the latest news Download The Daily Guardian App.
VIDYA BALAN'S COMPELLING PORTRAYAL OF A FOREST OFFICER HELPS AMIT MASURKAR DELIVER THE PERFECT FOLLOW UP TO 'NEWTON'
After a hiatus of 4 years, Amit Masurkar, the writer-director of Newton, has finally returned with his next film, Sherni, released as an Amazon Original. The film stars Vidya Balan in the lead role of an honest and tenacious forest officer caught at the centre of human-animal conflict. If Newton was a satire on the power dynamics that governs the lives of the tribal people inhabiting the Naxal-prone areas across India then Sherni can best be described as a satire on the power dynamics that governs the lives of the village people living in the periphery of densely forested regions of the country and the forest officers guarding them. Sherni, based on a screenplay co-written by Aastha Tiku, Yashasvi Mishra, and Masurkar himself, also stars Sharat Saxena, Vijay Raaz, Mukul Chaddha, Satyakam Anand, Neeraj Kabi, and Brijendra Kaala in pivotal roles.
Just like Newton Kumar, Vidya Vincent is a person of principles. When Newton's father tries to marry him to an underage girl he protests. While serving as a presiding officer during a seemingly impossible mission to conduct free and fair voting in a Naxalite territory, Newton doesn't leave any stone unturned to ensure that every eligible individual is able to exercise their right to vote. For, he is someone who follows the rules to a tee. And the fulfillment of his duty means everything to him. Vidya, on the other hand, is quick to hand over the notice to a contractor when she finds out that he is not filling up the waterholes which are a lifeline for lifeline for wild animals in the scorching heat. But she also knows when to avoid a confrontation.
In Balan's own words, her character in Sherni is "passive-aggressive". As an actor she has played countless strong female characters over the years. But, unlike those characters, Vidya Vincent's true strength lies in her passive aggression. She is a doer but she doesn't believe in boasting about it. When a villager gets mauled by a tigress she is quick to defuse the situation by engaging with an ex-legislature on the spot which allows her team to collect the all important DNA samples from the dead body. That's what makes Vidya Vincent a more complex character than Newton Kumar. And fortunately for Masurkar his casting was spot on. For, a lesser actor would have struggled to make Vidya Vincent so believable.
While working with Masurkar on Sherni, Balan had to let go of her old methods in order to embrace the director's unconventional shooting style. As part of her preparation, she spent time with real-life forest officers and did forest trails with them to acclimatize herself. She also watched documentaries and read books in order to get a deeper insight into her character. Also, for the first time in her life, she lived in a tent as part of the shooting schedule. All the hard work and preparation has resulted in a compelling film with both Balan and Masurkar going the extra mile to make things look as realistic as possible.
Also, the other actors have played their parts really well. The veteran Sharat Saxena shines in the role of an egotistical hunter, Pinto Bhaiya, who is only concerned about his hunting records. "Just by looking into the eyes of a tiger I can tell if it's a man eater or not," he brags. Vijay Raaz is equally brilliant in the role of Prof. Noorani who assists Vidya and her team in capturing a tigress on a killing spree. While Bijendra Kala, essaying the part of Vidya's superior, succeeds in occasionally delivering some much needed laughs, Satyakam Anand portrays the part of an opportunistic politician with menacing glee. Mukul Chaddha looks believable in the part of Vidya's husband during the limited screen time he gets. However, Neeraj Kabi is a tad bit disappointing in a rather clichéd role. He certainly ought to choose his roles more carefully.
Sherni is deliberately paced and takes some time to set up its world and the characters that inhabit it. But the narrative picks up pace after a rather slowish first half paving the way for a suspense filled final half an hour. Masukar isn't merely interested in making a film about a tiger hunt. He aims for something much bigger and succeeds to a great extent in examining the power dynamics and socio-politics that governs the lives of those inhabiting the forest areas. And he does so with a touch of his trademark satire that made Newton so memorable. Had Sherni released in theatres then perhaps it wouldn't have succeeded in drawing the crowds at it isn't really that kind of a film. While it is no Tarzan or Jungle Book, it is certainly a kind of film that the OTT audiences wouldn't mind watching as it would come across as a breath of fresh air amidst the run of the mill content that gets churned out day in and day out.