What is the first thought that pops up in your mind when someone talks about an electric scooter? It might be affordability, saving the environment, or even subsidy! But what we are aiming for is a brand that you would rely on when it comes to the electric scooter in India. And one such brand is Bajaj Chetak! Maintaining its decade-long success, the brand has ventured into the electric sector, is performing in the market and how!
Bajaj Chetak's electric scooter is unlike any other e-scooter you would've come across in the market! Forget about the plastic body and low range and explore the city with the all-new Bajaj Chetak electric scooter! Want to know more? Read ahead to find out!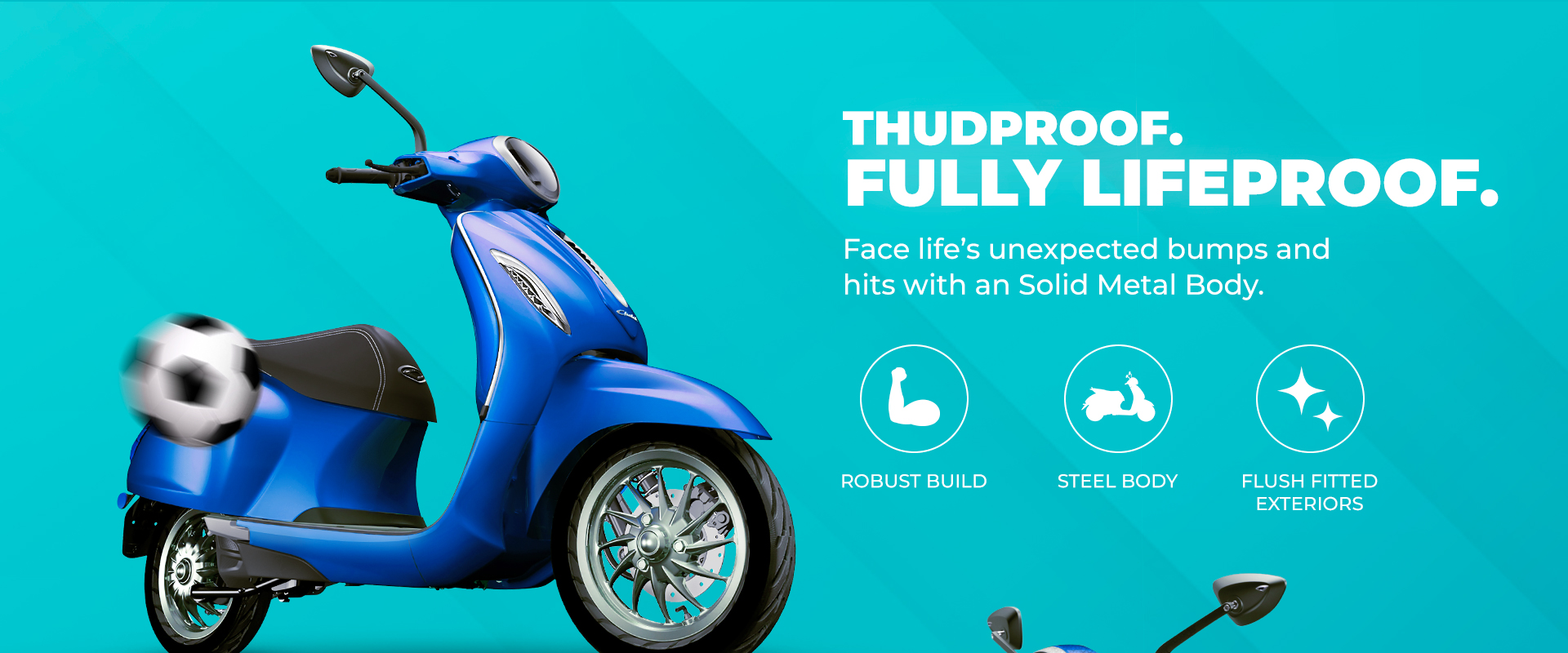 Bajaj Chetak
What Makes Bajaj Chetak an Extremely Efficient Electric Scooter in India?
The Indian market is filled with numerous options for electric scooters. You might get confused if you step out to buy one. However, the Bajaj Chetak electric scooter stands out when it comes to features, efficiency and such. Wait, let us break down the features of the best electric scooter in India:
1. Bajaj Chetak has revolutionised the market with its transformative technology, which is entirely different from other brands. From the electric scooter's body to sailing through the water-logged roads, this best electric scooter in India can pull off anything! The seamless steel unibody will stand strong no matter the seasons and years.
2. The Bajaj Chetak electric scooter in India is built with a metal body that makes it extremely safe to take out for a ride. Know the best part? You won't have to worry about replacements as the body is highly durable and long-lasting.
3. The metal body makes it less susceptible to getting damaged from dust and grime. Just do your regular cleaning, and you will be good to go!
4. The electric scooter in India offers a top speed of 63 km/h. There are three different ranges: Eco, Sports, and Reverse.
5. The weight of the Bajaj Chetak electric scooter is 133 kg.
6. One of the fantastic features of the Bajaj Chetak electric scooter is the hill hold assist feature. The riders can cease the backward movement of the vehicle in drive mode after releasing the brake from a standstill position.
7. The under-seat storage space is 18 litres, and the glove box storage space is 4 litres.
8. The electric scooter in India comes with the My Chetak App that runs on Android and iOS. It has Bluetooth, tamper alert, OTA updates, and geo-fencing features.
But What Makes Bajaj Chetak Best in the Market?
One key feature that you won't find anywhere in the market when it comes to electric scooters in India is water resistance! This feature is a boon as you won't have to worry about finding a shed and hiding your electric scooter to save it from getting drenched. People who have been through this know how costly it is to get a new battery once submerged in the water. But this is not the case with Bajaj Chetak, one of the best electric scooters in India.
Whether it is raining or the streets are water-logged, you can still ride your Bajaj Chetak without a single worry! Being IP67 water resistant, the Bajaj Chetak takes the cake when competing with other electric scooters in the Indian market. Some mobile phones are IP67 water resistant – which literally means surviving 30 minutes of water submersion!
Now imagine if you ever have to reach your destination on time and you are riding on just a regular electric scooter; you will have to wait for the rain to stop and the water to clear, and only then can you take it out. But with Bajaj Chetak, you can hop on and reach your destination without further delays and breaking a sweat! This technology by Bajaj Chetak makes this electric scooter in India a perfect option for people residing in an area that receives heavy rainfall.
But what for people living in humid and hot areas where the sun wreaks havoc on everything? Will your Bajaj Chetak electric scooter remain safe in this scorching heat? Well, the answer is yes! Look around to see how beautifully preserved the metal-bodied Chetaks look even after three or four decades! The new electric Chetak carries that legacy forward with a beautiful unibody design and a metallic lustre with a superior paint finish. The sheen stays long after the summer has turned into winter.
Conclusion
With such unique features and technologically advanced specifications, there's no room for doubt that Bajaj Chetak is one of the best electric scooters in India. The infamous brand that ruled Indian households with its metal body scooters that still grace our roads is more focused on offering quality to riders than just dramatic features. So, what are you waiting for? Head to your nearest Bajaj Chetak dealership today!