Delhi Police, families of injured personnel stage protest against Jan 26 attack
New Delhi [India], January 30 (ANI): Delhi Police Mahasangh and family members of the police personnel injured in violence during farmers' tractor rally on January 26, staged a demonstration at Shaheedi Park on Saturday in protest against the attack.
They were also accompanied by the retired as well as current Delhi Police officers at the protest.
"I was deployed at the gate of the Red Fort. We were bringing out the crowd that had entered and hoisted the flag, after which we were suddenly attacked. They had sticks and swords with them. I received injuries on my head and legs," said Head Constable Ashok Kumar.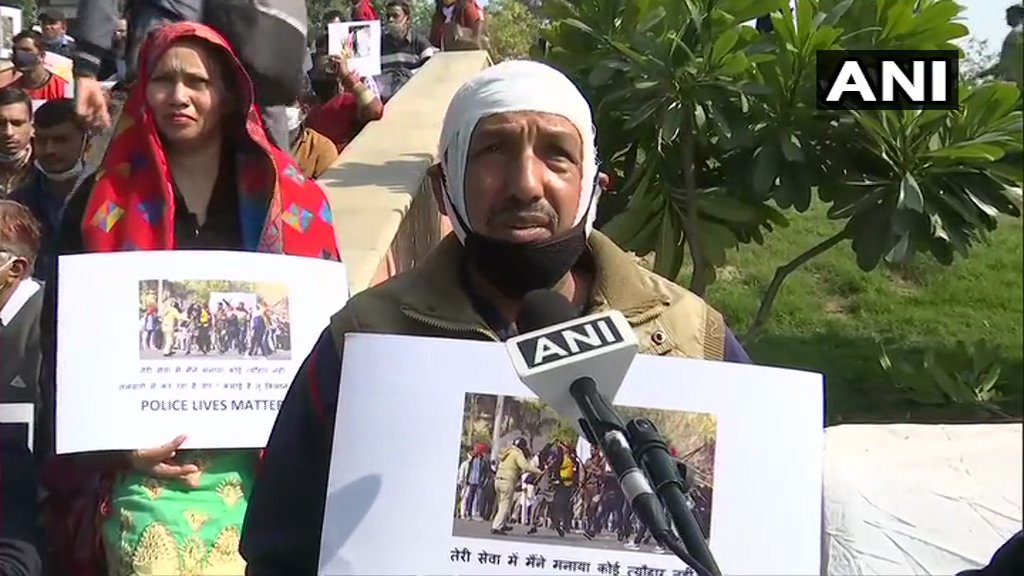 Head Constable Sunita, posted at PS Model Town, was also injured during the attack that took place on January 26. "I was deployed at Mukarba Chowk. Deputy Commissioner of Police and Assistant Commissioner of Police were also there. They spoke to protesters asking them to go to approved route. But they turned aggressive, broke barricades, attacked us and vandalised vehicles," she told ANI.


Even though the farmer unions have distanced themselves from the attacks and called it a conspiracy, the Delhi Police held them responsible for it.
The police on Friday served notices to 12 farmer leaders to join the investigation into the violence during the tractor rally on Republic Day. Among those who were served the notices include Buta Singh Burjgill, Darshan Pal Singh, Rakesh Tikait, Shamsher Pandher and Satnam Pannu.
On January 26, during the tractor march by farmers to protest against the three farm laws, protestors violated the agreement about the route to be taken and entered central Delhi after forcibly removing barricades. Several policemen were injured in the violence and vehicles were damaged. (ANI)
The Daily Guardian is now on Telegram. Click here to join our channel (@thedailyguardian) and stay updated with the latest headlines.
For the latest news Download The Daily Guardian App.
Bugin Ho school imparts education to tribal children in interesting ways in Odisha
Bhubaneswar (Odisha) [India], March 4 (ANI): A school at Godibari near Chandka in Odisha provides education to tribal children through story-telling, songs, dance, book reading and skits.
Bugin Ho, which means a place for good people, is an educational institute for indigenous school dropout children that encourages them not to drop out of regular schooling.
Speaking to ANI, the chief advisor of the school Sabita Patnaik said: "Women workers of the village set up Bugin Ho Siksha Kendra with the help of an NRI woman, Bandana Patnaik who lives in Bangkok for the education of these children. I have taken over the institute in 2012, and have been running it since then."
She said that besides regular classes, students are given lessons on tribal language, art, and culture.


"We are conducting sessions in the morning and afternoon. It began with 10 to 12 students, but now the school strength is 60, with more girls. In fact, NGOs from neighbouring villages have also shown interest in replicating the model. The school has its gates open for all–both school-going students who seek remedial classes and those out of school," Patnaik added.
Talking about COVID-19, she said: "During the pandemic, the children were facing issues as classes had turned online. But the institute had facilitated online learning and also created awareness about the coronavirus.
The students are also taught to take care of the kitchen garden in the school backyard. The lessons are taught through innovative methods. (ANI)